We welcome your family to join our family! We take extreme pride in serving the freshest family-style dinner. Your Fire Pitt experience would not be complete without trying our ALL YOU CAN EAT traditional Lumberjack Fish Boil. Indulge in our ever-so-famous North Atlantic Cod boiled to perfection outside, topped with real butter, served with sweet whole onions, whole red potatoes, and our one of a kind cole slaw.
Don't forget to leave space for your choice of a fresh baked Apple Slice or Cherry Slice desert. For those who are not feeling like fish boil that evening, don't be shy in ordering our all you can eat, fall off the bone, BBQ Chicken and Ribs! If that doesn't hook you, maybe our home sliced Itialian Beef, Hand Rolled Burgers, Chef's Crazy Special, or a simple custom appetizer aside one of our finest specialty Martini's will.
Family Owned and Operated
Three brothers grew up in a small town of Trevor, raised by entrepreneur parents have set out on a Journey to share a unique family experience. The original Jonas brothers…Artie, Matt, & Nate, welcomes you personally to the Fire Pitt not just as customers, but as friends. You'll find Boil Master Nate outside at the Pitt cooking your fish and showing off his Pyro addictive tendencies. After getting blasted with huge flames and heat from the Boil Master, come on inside to be greeted by Artie or Matt, who will make sure your experience is everything you had expected and more! If not greeted by one of the Jonas brothers… you will be pleasantly taken care of by Shelby, our Lumber Jill who will make you the finest cocktail or martini you have ever had!

Carrying On The Wisconsin Tradition of a Fish Boil
The Fire Pitt will continue to carry on the Wisconsin Fish Boil tradition but with a twist of perfection – our fish has no greasy oils, no skin, and no bones to pick through! . That is, rather than serve White Fish from Lake Michigan covered in skin, filled with small bones, and greasy oil. Fire Pitt will continue to serve the Most Famous Fish Boil covered in real butter and parsley. We often hear our new guests say…"It tastes like Lobster," an affordable treat that is!
North of Antioch, IL and minutes from Kenosha, WI word of our locally famous Fish Boil is spreading fast. A true delicacy that is attracting families from miles away, from the south side of Chicago to the north side of Milwaukee, the Fire Pitt is right in between!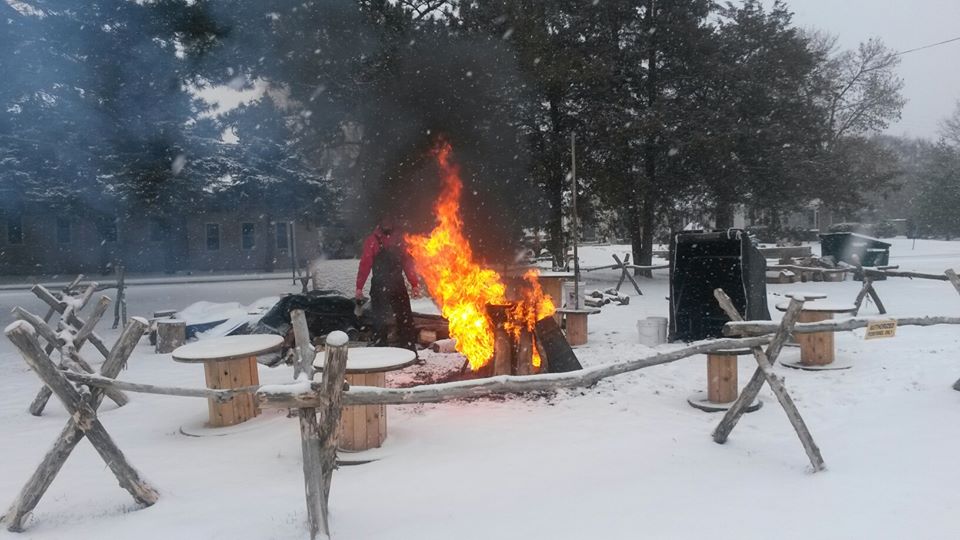 Our Vision for the Future
Fire Pitt future is looking bright, as the family is putting every step forward to make the Trevor Wisconsin location a Midwest Landmark. New experiences of entertainment and accommodations are on the horizon as we look forward to bringing more families closer by sharing quality time while eating the finest affordable dining in a traditional home felt setting! Also, we are looking forward to expanding outside of southeastern Wisconsin by providing our famous Lumberjack Fish Boil on the road with our 'fish boil on-site' catering service.